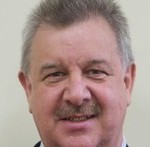 MagnumMac founder Murray Wood was among the more than 140 people who lost their lives in the February 22, 2011 earthquake that devastated the city of Christchurch, New Zealand.
"Murray Wood will best be remembered by members of New Zealand's Mac User Group community as the founder of MagnumMac. He was very involved with the Christchurch group as its Patron and spent a lot of time in Wellington when he was the owner of the Wellington branch. He assisted our group in the early years of the Digital Solutions Expo and the MovieFest competition providing some of his musical talent at the prize giving ceremony in Te Papa's Soundings Theatre.
The following is from the New Zealand Heralds web site and sums up Murray as those of us who knew him remember him.
"Murray Wood's day job was managing director of Canterbury Television. But outside his office he would often be found hammering the keys of his piano around the garden city.
Mr Wood was one of 15 CTV staffers believed to have been killed inside their building on Madras St.
Long-time friend Robert Bijl said the father of six was an energetic and enthusiastic music lover with a big heart.
"He's extremely kind, extremely generous, enormously talented, very dedicated to his family and he adored his wife, Nicki," Mr Bijl said. Mr Wood was proud of his five sons and one daughter.
Mr Wood was an avid piano player and could often be found playing in gigs, at fundraisers or just for friends. Mr Bijl spent time with Mr Wood's family and the surviving staff from CTV – who were not in the building when the quake hit – after they heard the news. "Everyone was devastated … stunned."
One of Mr Wood's business partners, Nick Smith, said the loss was tragic. "All I can say about Murray is he's a real enthusiast for the industry. He's a good guy to have around, with a good sense of humour."
He will be greatly missed and our condolences go out to his wife and family."
Graeme Moffatt
Apple User Group Regional Liaison for Australasia