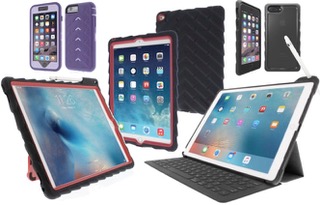 Gumdrop Cases provides stylish, heavy-duty, and incredibly protective ruggedized cases for iPads, MacBooks, iPhones, and more. Designed with durable protection that can withstand repeated 6-foot falls, Gumdrop's cases are rapidly becoming one of the leading solutions to keep your tech safe from damage at home, school, and work. With over 1,600 certified case reviews from satisfied users, Gumdrop cases has a selection of cases types to fit your device, from DropTech type cases, to Hideaway, Sleeve Series, SoftShell, and more.
Why not use their vendor offer and materials to plan a meeting around Gumdrop Cases products?
This video offers a look at drop tests using Gumdrop Cases:
www.gumdropcases.com/collections/drop-test-videos
A simple how-to for case installation can be found at:
http://www.gumdropcases.com/collections/install-videos
Better yet, this month's password-protected Leader's Offers includes a generous offer from Gumdrop Cases.
Learn more.