[Note: The premiere of Graeme Moffatt's 'Mr Mainline Steam' documentary was shown recently and the documentary has received amazing reviews and organizational recognitions.]
Filmmaker Graeme Moffatt of Capital Video Productions Ltd. is a member of the Wellington Macintosh Society, and he is also the Apple User Group Regional Liaison for New Zealand, Australia, and Oceania. You can find more than a year of his group's Wellington Macintosh Society (WelMac) meeting videos at: https://www.youtube.com/channel/UCmJBMCRuX6iyV8smOu2iApw/videos
By Graeme Moffatt:
I became involved with a group in the United States that is doing live internet broadcasts, initially just using an iPad and soon they moved to a much more sophisticated system.
This new system allowed them to use multiple screens, cameras and microphones and the quality of the broadcasts became much more sophisticated and interesting. I sent an email to the person who was coordinating all of this, an ex Hollywood filmmaker, and asked him what software he was using and received a reply stating that it was an iPad app called Switcher Studio.
I did a search online and soon found the app and downloaded a free trial version and tested it out. I found it to quite amazing as to what it could accomplish
in terms of mixing multiple video feeds along with synchronized audio and to be able to live stream this over Youtube and various other streaming services such as Facebook. It quickly became obvious to me that this ability, even though live streaming has been around for some time, to switch multiple cameras and in effect have a television studio on an iPad has a great potential for the future.
I wrote an article in our group's monthly magazine recently about the changing landscape as far as television is heading and this included this recent innovation by some ingenious video editors. Switcher Studio CEO and co-founder Nick Mattingly said recently that "Streaming technology is getting better quickly, pointing to the simple, intuitive interfaces favored by Twitter's Periscope and Facebook Live."
I mentioned to our President that I thought that this may be a good way in which we could extend the reach of our meetings to those members who were unable to attend in person. We decided to give it a trial at our recent committee meeting and invited some of our longer serving members, who are not on the committee, to participate in order that we could give it a reasonable test. The reason behind this is that YouTube Live allows for comments to be posted by viewers and this would be one that whoever is presenting a group meeting could take questions from remote viewers.
We found a couple of issues that needed working out, but by the end we had things working fairly well to the point that we gave this a full test at our August meeting. We sent an email out to all our members on the evening of the meeting once we knew the URL for the live stream and there was a good number of members who subsequently joined the live broadcast. We had a few problems with the speed of the internet connection we had at our meeting venue and as such did not encourage viewers to make any comments. The live stream ran for nearly an hour and a half, and at the end the feedback we received was all positive even considering the breaks while the broadcast was buffering and a bit intermittent.
Overall we considered the task required to set the equipment up and to get it working was well worth the effort and will continue doing so for future meetings. We anticipate our broadcasts getting much more refined as we progress and the next major task will be to ensure we are able to receive live questions that we can comment on as the broadcast progresses. One other thing we will look to do will be to include a live Skype presentation or interview during the period that the broadcast is running. This will enable us to do a hookup with someone with an interesting story or demonstration from virtually anywhere in the world and solve our difficulty of finding suitable presenters.
Here is a bit of information about the app where you can be the Director and use your iPhone or iPad as a switcher being able to sync up to four additional iPhones or iPads over WiFi. You can choose from multiple picture-in-picture and side-by-side layouts, control your cameras from across the room: zoom, adjust the focus, white-balance, exposure and more. You can use your Mac computer screen as a video source and show websites, presentations, video clips. You also stream Skype calls using Switcher
Cast and the Switcher Studio app and all this can be recorded on to your iPad as well as by Youtube once your stream is over. You can discover more at <https:// www.switcherstudio.com>
Enjoy a bit of the Livestream of WelMac's August Meeting:
Learn more about the Wellington Macintosh Society Inc. (WelMac):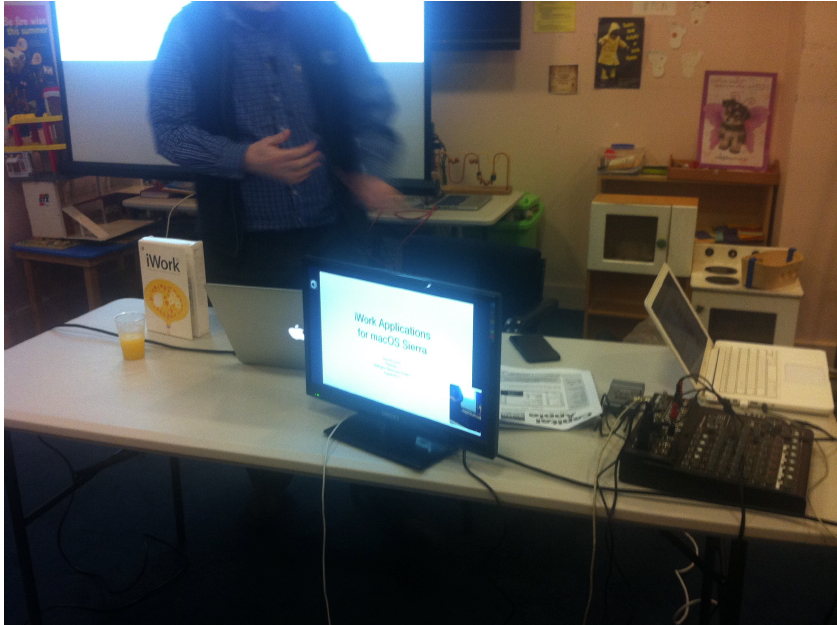 Graeme is past president of the Wellington Macintosh Society Inc. in Wellington, New Zealand. He started with an Apple II plus in 1984, moved to a Mac Plus in 1989, and joined his user group in 1993 where he has been an active member of the committee since 1995. He manages Capital Video Productions Ltd <www.capitalvideo.co.nz>, a company he owns with with three colleagues, where he works on tourist-related videos and documentaries using Final Cut Pro X and Logic X.