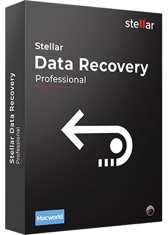 You may remember Stellar Data Recovery products from multiple Macworld Expos and User Group University events. If you are one of the more than three million people who have used Stellar Data Recovery, you remember it fondly because it works so well. The newest version, Stellar Data Recovery for Mac, offers a range of features to recover lost and deleted data from a Mac-based hard drives, SSDs, memory cards, USB flash drives and other external storage media.  It can easily recover lost partitions, photos, videos, critical office documents and other important files, even from Time Machine, BootCamp partitions and encrypted hard drives. In addition, Stellar Data Recovery for Mac has a great, limited-time, discount offer for user group members and officers on this month's vendor discount page.
Why not make Stellar Data Recovery Software the topic for your group's next meeting?
Stellar Data Recovery revolutionized the concept of data recovery with smart, simple software and services. Their data recovery, repair and system optimization tools help users by bringing back valued materials and avoiding catastrophic data loss situations.
See how easy it is to recover your files with Stellar Data Recovery:
https://www.youtube.com/embed/8aPXOi2OuPE?rel=0
Here is a slideshow presentation you can use:
https://www.slideshare.net/stellardatarecovery/stellar-data-recovery-mac-edition-premium
Why Stellar Data Recovery?
https://www.youtube.com/watch?v=qJ6IwJFK1SE
Want to know a bit about the company?
https://www.stellarinfo.com/company/about/stellar-overview.php
Learn More at https://www.stellarinfo.com/data-recovery-mac.php