CES 2018: Meeting the Stars
by Tom Piper
This year's January 9-12, 2018, visit to Las Vegas for the 51st edition of the Consumer Electronic Show was once again a dazzling mix of amazing products and puzzling potentials. Like Wonder Woman with her motorcycle, I met many "star" electronics from name brands like Samsung, LG, Sony, Kodak, Panasonic and others, while being introduced to a wide array of new ideas and concepts being featured by broad spectrum of unknowns from many diverse countries.
The first day was met by drenching rain with nearly 1.5″ in one day in a town that normally averages around 5″ of precipitation per year! This resulted in huge traffic delays trying to navigate around oceans of water with nowhere to go, and crowds of people unprepared for such downpours. Even Central Hall of the Las Vegas Convention Center lost power for several hours due to the deluge (a catastrophic problem for a show dependent on electricity in a closed and closed environment). Luckily, I was at the Sands Exposition Center the first two days, enjoying the products featured by colleges, universities, and other new startups at the Eureka Park area.
CES is overwhelming with over 3,900 exhibitors spread over 2,750,000 square feet to visit, among a throng of 170,000+ people from 150 countries in three official venues including:
CES Tech East: Las Vegas Convention and World Trade Center (LVCC), Westgate Las Vegas (Westgate), Renaissance Las Vegas (Renaissance) . . . Where innovations in audio, drones, gaming, augmented and virtual reality, vehicle technology, video, wireless devices, wireless services, digital imaging/photography or anything "i" come to market. It's also home to many international exhibitors.
CES Tech West:Sands Expo/The Venetian (Sands/Venetian), The Palazzo, Wynn Las Vegas and Encore at Wynn (Wynn/Encore) . . . Featuring the innovative power behind the industry's emerging technology, including revolutions in fitness and health, the Internet of Things, wearables, smart home, sensors and other high-growth technologies changing the world. It's also home to Eureka Park, the startup community at CES.
CES Tech South: ARIA, Park MGM and Vdara . . . The CES epicenter for the advertising, content, marketing and entertainment communities, hosting a variety of C Space activities, including conference sessions, networking events, exhibits and hospitality suites.
Walking basically from 9:00am opening to 6:00pm closing (except 4:00pm Friday's end-of-show), I was able to cover about half of the exhibits traveling over 20 miles, often among jam-packed aisles of slow-moving viewers, who were rushing in every direction, swinging backpacks and pulling luggage. It was difficult to talk or listen due to the mix of music, and electronic noise, as well as voices of many languages. Yet, the excitement was contagious, and diversity was awesome, though sometimes puzzling, seeing so many vendors who were displaying innovative concepts, introducing new products, and seeking worldwide distributors for resale.
So much coverage is already available on the Internet from sources like C/NET (cnet.com) who said: "Wall-sized TVs. Connected everything. Smart mirrors. Autonomous electric vehicles. The world's thinnest laptop. This is everything that mattered at CES 2018 . . . (but) . . . When people look back at CES 2018 in five or 10 years, it'll be the heavy rain, flash flooding and power cuts that'll stand out more than the tech on display." And, TechRadar (techradar.com), who said: "We saw a rollable LG OLED TV, new Sony smartphones and ultra-thin laptops from a wide range of manufacturers . . . we went up close with everything from 8K TVs to solar-powered smartwatches . . . What were the big themes at this year's CES? Nearly every company infused their tech with AI and voice assistants, meaning our smart products are about to get even smarter." For me, the show highlights included the following: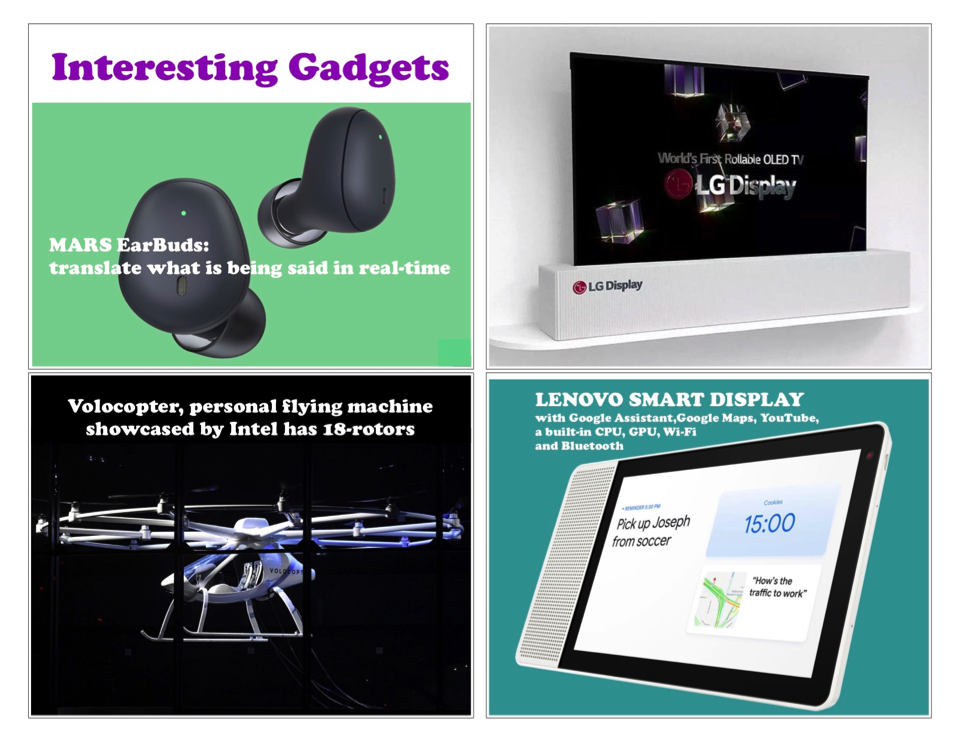 Suffice it to say, this was another memorable year, perhaps with more evolution than revolution, but interesting (and exhausting), nonetheless. Like past years, I plan to return again next year to see more drones, cool cars, unusual gadgets, unbelievable appliances, amazing televisions, sparkling iPhone cases, and so much more.
I have posted my product and slideshows, and will be reviewing many products, like the great Zylus Revolver 6-in-1 lens case, all of which can be found at applejac.org and related pages. Oh, by the way, one last thing . . . in addition to the interesting products brought back from CES, I also acquired a very relaxing and forever helpful device for our home (that my Amazon Echo also talks to) . . . see photo below with my wife, Letha, who also loves it!
Come join us next year for CES 2019 on January 8-11 . . . its a trip you will never forget!